Sale Camp furniture that literally everyone loves.
Check out the adorable new Eco Line of camp furniture from Darche
cyber monday deals that are like whoa
Even More Discounted Goodies!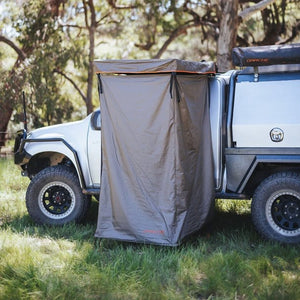 by Darche
The best camp shower tent on the planet, for real.
With locking arms, an in-build light, and blackout curtain, you won't find a more feature-packed shower
Take me to Camp Cleanliness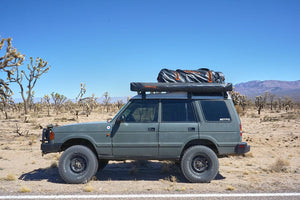 Get to know us!
We are all about this stuff, we live it and we know it. Learn more about us and maybe you will think we are cool?
Learn more
Forget it!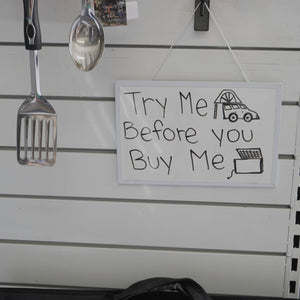 Spoil your trip
Shop Rentals
Come out to Long Beach, CA and get the supplies to make your adventure more adventurous
Check it out
---
The Best Camping & Overland Gear
At GTFOverland we aim to bring you the best camping and overland gear out there. We have tried and tested all our products and only bring you stuff that we love and use. Looking for the best roof top tent for camping? A roof top tents is one of the most important things to select when it comes to camping and overland adventures. We've handpicked our favorite roof top tents to sleep in from Darche, Front Runner and Thule. These durable hard-shell roof top tents can go on top of cars, SUVs, vans and trucks. Sleep on top of your car in a roof top tent with a sky window and gaze out at the stars before you crash from the full day of adventure you had. Need more shelter when camping? We've got a wide selection of awnings, shelters, swags and shade. Known for making high quality camp shelters, our top picks come from Darche, Thule, Front Runner, Area BFE and DFG Offroad. Our shelters will keep you out of the wind and rain, plus give you shade from the sun. So, when the weather takes a turn our you can count on these durable awnings, swags, annexes, shades and shelters to keep you nice and cozy.
Roof Racks & Vehicle Storage for SUVs & Trucks
Carry all your overland gear and camping cargo on your truck, SUV or van with a heavy-duty roof rack. If you're just starting to build an overland rig or you need a way to transport your stuff, roof racks can be a lifesaver. Check out our roof racks for Land Rovers, Ford trucks, Toyota Land Cruisers, Lexus SUVs, Grand Cherokees, Jeep Wranglers, Mercedes Benz SUVs, Toyota Sequoia and more! All made by our favorite roof rack brands - Front Runner, Offroad Animal and Bajarack. Now that you've got your roof rack straightened out, take a look at our interior vehicle-based storage solutions. From single and side drawer modules, to side cubbies, they'll allow you to maximize the space of your vehicle and give you storage where you never thought possible. Browse our lockable storage drawers, boxes, bags and accessories for Toyota Land Cruiser, Toyota Prado, Toyota 4Runner, Lexus SUV and Mercedes-Benz Gelandewagen. Our lockable vehicle storage drawers will keep your clothes, personal belongings, valuables and camping gear safe and secure, from Front Runner, Goose Gear and Flashlanding. Use Goose Gear platforms to turn the rear area of your vehicle into a flat and open storage and sleep area. Our vehicle sleeping platforms, car seat deletes, and plate systems fit Jeep Wranglers, Land Cruisers, Toyota 4Runners, Toyota Tacoma Double Cab trucks, Toyota FJ Cruisers and Chevy Colorado trucks.
Best Portable Ovens, Stoves & Fridges for Camping
Outdoor cooking, baking and grilling has never been better. Our portable camp oven lets you bake or roast food at your campsite. If grilling is more your thing, you might like Tembo Tusk adventure grill skottles. We also carry a variety of lightweight camp tables. Check out our heat resistant folding camp tables. Eat, serve or use our portable camp tables as a work space. Shopping for the best camp furniture? At GTFOverland we carry camp chairs and tables. Sit back in what we think are some of the most comfortable camp chairs we've ever put our buts in. Shopping for the best portable fridge for camping? Take a gander at our Snomaster and Dometic portable fridge/ freezer combos, coolers and ice makers. We also sell durable, rust proof fridge slides that you can use to store your camp fridge or stove.
Camp Lighting, Portable Power Devices & Auxiliary Battery Systems for Campsites
Shop GTFOverland for the best camping lights by Hardkorr. We carry camp lanterns, LED light strips, LED tape lights, LED off-road driving lights, light bars, flashlights, headlamps and lighting accessories. Check out Hardkorr's LED driving lights and LED light bars for SUVs, trucks, cars, campervans and overland rigs to find the best off-road lighting solution for your vehicle. Power up your campsite with an auxiliary battery or the sun. Shop the best camp battery power devices, portable solar mats, solar panels, chargers, power stations, deep cycle lithium batteries, inverters and more! From the top brands in portable camp power, like Sunflare, Victorn, Battleborn, Advanced Power, Dometic, Lifeline, Sterling Power, Hard Korr, Bay Marine, Front Runner and us! Bring reliable power to your campsite with one of our camp power devices! Browse the best portable solar panels for camping we've ever found. These portable solar panels by Sunflare and Hardkorr will bring free power to your camper, overland rig, RV, campsite or hard-shell roof top tent. They make it easy to charge your phone and laptop, or power fans, lights or whatever you like.
Need some help?
Whether you're shopping for roof top tents, awnings, roof racks, vehicle storage, camp furniture, camp kitchen items, furniture, camp lighting, portable fridges or power – we are confident we've got it. Whatever you need for your outdoor living experience, you'll find it here at GTFOverland. For local pickups in the southern California area, stop by our shop in Long Beach and we'll help you find the right outdoor camping and overland gear. Got a question about our roof top tents, racks, portable fridges or any of our products? Don't be afraid to email us, we're always happy to help out a fellow outdoor enthusiast.
---